The Friendship Highway: Two Journeys in Tibet
Summersdale, 2014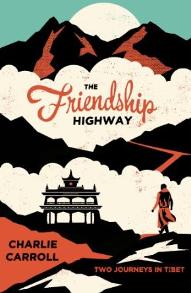 No Fixed Abode: A Journey Through Homelessness from Cornwall to London
Summersdale, 2013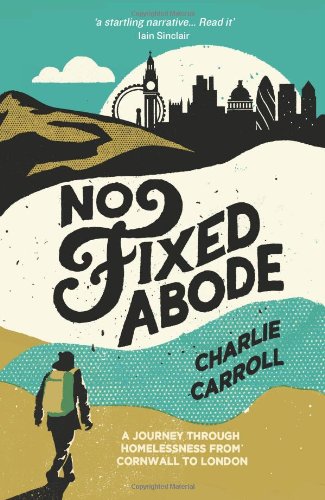 THE YEAR'S BEST READS 2015, LONGITUDE BOOKS
Published in the USA as Peaks on the Horizon, Counterpoint Press, 2015.
"A compelling and unforgettable encounter on the roof of the world.
Hoping to reach Tibet after a twenty-year obsession, Charlie Carroll travels to China. Contending with Chinese bureaucracy, unforgiving terrain and sickness-inducing altitude, Charlie experiences twenty-first-century Tibet in all its heart-stopping beauty.
Tibetan-born Lobsang fled the volatile region over the Himalayas, on foot, as a child in 1989. An exile in Nepal, then a student in India, he was called back to Tibet by love. At the end of the road known as the Friendship Highway, he met Charlie and recounted his extraordinary life story, exemplifying the hardship, resilience and hope of modern Tibetan life."
"An enthralling account of two entirely different Tibetan journeys... Charlie Carroll turns out to be a superb storyteller and his re-telling of Lobsang's tragic life-story is hauntingly evocative, whilst the device of telling his own story alongside leaves the reader both touched and hugely well informed about the culture, history and recent politics of Tibet." - Good Book Guide
"Charlie Carroll's fascinating account of his recent trip to the "roof of the world" is no ordinary travelogue but also an extremely detailed version of Tibet and its relationship with China ... The Friendship Highway is unique in its style and content. This is an adventure, thriller and political history book all rolled into one ... Carroll's vibrant description of his experience in Tibet, from the stunning scenery to its eclectic mix of people, is enough to inspire the most reluctant traveller ... This is a mighty read." - We Love This Book
"The two narratives dovetail beautifully to present a powerful portrait of place." - Longitude Books
"A rare and extraordinary account of life in Tibet." - National Geographic
"His journey takes in Tibet's raw beauty but also the intense weight of fear that sits on the populace ... a blinker-free look at Tibet." - Wanderlust
"In this passionate account ... Carroll's passion for the topic bleeds on to the pages, making this both a love letter to Tibet and a call to arms for Tibetan freedom. By adding Lobsang's tale, Carroll further humanises the effort ... an engrossing and even enlivening book." - Publishers Weekly starred review
"He richly describes the landscape of the country and its people .. and dutifully fulfills Tibetans' oft-repeated exhortation to visitors: 'Go to Tibet, and then tell the world what you saw'. A gripping, enlightening journey." - Kirkus
"The Friendship Highway is no simple travelogue, but reaches out to become a powerful and deeply moving account of the predicament of the people of Tibet." - Neil Ansell, author of DEEP COUNTRY and DEER ISLAND
"A hard-hitting account, showing what lies beneath the surface of modern-day Tibet ... Charlie Carroll gives this story the voice it deserves." - Alec Le Sueur, author of THE HOTEL ON THE ROOF OF THE WORLD and BOTTOMS UP IN BELGIUM
"Charlie Carroll has woven a flawless narrative out of a very complex subject ... In simple language, it explores the Tibet mystery, a country that is at the core of our being like no other. Evocative, provocative and very readable." - Naomi Levine, author of THE MIRACULOUS 16TH KARMAPA and CHRONICLES OF LOVE AND DEATH
"The Friendship Highway is another gripping, emotive tale from Charlie Carroll. Beautifully written, it tells of not only the author's brave journey into Tibet but also the ongoing, heart-rending plight of its people. A must for anyone with even an inkling of interest into this mystical Himalayan kingdom." - Antonia Bolingbroke-Kent, author of A SHORT RIDE IN THE JUNGLE and TUK-TUK TO THE ROAD
The Friendship Highway is available from all good bookshops, and from Amazon here: http://www.amazon.co.uk/The-Friendship-Highway-Journeys-Tibet/dp/1849535906/ref=sr_1_1?ie=UTF8&qid=1389474112&sr=8-1&keywords=the+friendship+highway
WINNER OF THE K BLUNDELL TRUST AWARD
THE BOOKSELLERS' CHOICE: BEST BOOKS OF JUNE 2013
"Finding himself jobless, with no money but with all the time in the world, Charlie Carroll takes on the daunting task of tramping from Cornwall to London. On foot with basic supplies and a commitment not to spend any money on travel or accommodation, he pushes his body and his resolve to the limit.
On a journey that takes him from the picturesque Cornish coast to sleeping on the Strand in London, Charlie's encounters are sometimes enlightening, sometimes disturbing, but always memorable. A striking mix of travel and current-affairs writing, No Fixed Abode sheds light on a side of the UK few ever see from within."
"Honouring the expeditions of Jack London and George Orwell into hidden zones of poverty and homelessness, Charlie Carroll contrives a startling narrative of a nightworld most of us would choose to avoid. He is perverse, obstinate, brave about his own strategic cowardice (or writerly self-preservation), he is driven and unyielding in the determination to return from darkness to light with a story worth the telling. That story grips and bites and blisters. Read it." - Iain Sinclair, author of LONDON ORBITAL and HACKNEY, THAT ROSE-RED EMPIRE
"A striking travelogue." - The Big Issue
"Carroll offers a unique insight to a lifestyle many thought died out years ago." - Best of British
"Surprises, danger and some memorable characters." - The Bookseller
"It's a life few could imagine choosing, but one man did ... His journey would take in the South West Coast Path to Bude; a prolonged stay on the streets of Bristol; and a number of experiences in the capital, from rough sleeping on the Strand to the tented community of Parliament Square. During that time, he met a number of colourful characters whose stories were complex, often poignant and occasionally disturbing." - Cornwall Today
"His students should consider themselves extremely lucky to be taught by such an inspiring individual." - Western Morning News
"A courageous and sensitive book. 'No Fixed Abode' finds Charlie Carroll tackling another knotty social issue that is all too often brushed under the carpet. It is all the better for being well-written and, perhaps surprisingly, inspirational. Orwell would be impressed by this travelogue but no doubt saddened that Carroll has rightly seen the need to tackle this vicious problem again ninety years on." - Will Randall, author of SOLOMON TIME and INDIAN SUMMER
"A most courageous undertaking, beautifully told, that would test the mettle of even the hardiest. Charlie Carroll must be congratulated on a fine book!" - Harry Bucknall, author of IN THE DOLPHIN'S WAKE and LIKE A TRAMP, LIKE A PILGRIM
"A fascinating concept and an immensely courageous assignment. The descriptions were powerful and evocative. It should be required reading for all those who have difficulty in seeing behind the face of the destitute in our affluent society." - David Bathurst, author of THE BEATEN TRACK and THE BIG WALKS OF THE SOUTH
"Charlie's managed to poignantly capture the plight of our often forgotten homeless in a way that's sometimes scary, frequently surprising but always genuine and heartfelt. Eye opening - a true insight into a life many of us will never know." - Phoebe Smith, author of EXTREME SLEEPS and THE CAMPER'S FRIEND
"Charlie Carroll's unique journey from Cornwall to London provides a rare perspective on life as seen from the street; a glimpse into the fringes of society and the people who, for all manner of circumstance, inhabit a very different world. It's an honest, poignant and often courageous tale of homelessness and life on the move and raises many questions about the kind of society that we live in; about tolerance, prejudice and probably - most of all – about camaraderie and the affirming power of the human spirit." - David Le Vay, author of THE HAIRY HIKERS
No Fixed Abode is available from all good bookshops, and from Amazon here: http://www.amazon.co.uk/No-Fixed-Abode-Homelessness-Cornwall/dp/1849534152/ref=sr_1_1?s=books&ie=UTF8&qid=1364422909&sr=1-1
On the Edge: One Teacher, A Campervan, Britain's Toughest Schools
Monday Books, 2010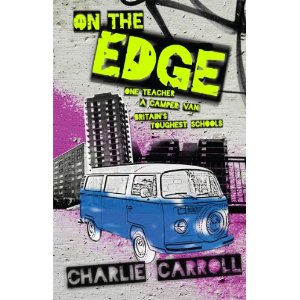 "Charlie Carroll is a successful young teacher in a great school. He loves his job, but he wants to see the tougher side of British education. So he hands in his notice, takes to the road in a beat-up old camper van and spends a year travelling round England's most deprived areas, supply teaching in dozens of the country's roughest comprehensives.
Carroll is battered and bewildered by what he finds: pupils threaten and abuse him, deal drugs, flash knives, surf the internet for porn and fight in class. Often, lessons are more about riot control than learning.
Above all, it's the lack of sanctions and support that shocks him. He's almost broken by the experience, but just occasionally - in the most surprising of places - he comes across inspiring kids who are battling to beat the odds.
This is his frank, funny and frightening story of a journey to the edge of modern education."
"A remarkable account ... well worth a read if you can stomach the constant misery of his existence as a supply teacher. Like some kind of educational suicide bomber, Charlie loads up his van and scours the British Isles in search of adventure, or death ...This book is packed full of all sorts of statistics that you'll find fascinating if you're interested in education. And you'll enjoy the running commentary given by Charlie, telling it as it is, from a real teacher, on the frontline ... On the Edge is a must-read." - Katharine Birbalsingh, The Telegraph
"I enjoyed and was gripped by On the Edge, but it scared me." - Times Educational Supplement
"Charlie Carroll tells his story, in a shocking but humorous diary." - The Guardian
"Exposes a system that leaves teachers vulnerable and allows children to run amok" - The Times
"A profoundly shocking book" - Daily Mail
"Paints a terrifying picture ... [an] important read." - Times Educational Supplement
"A striking book" - The Sunday Times
On the Edge is available from all good bookshops, and from Amazon here: http://www.amazon.co.uk/Edge-Charlie-Carroll/dp/1906308179/ref=sr_1_1?s=books&ie=UTF8&qid=1364423015&sr=1-1